Elder Care Resources in Our Service Area

I serve all the cities and towns in Hampden County, Massachusetts, and neighboring towns of Easthampton, South Hadley, Granby, and Belchertown in Hampshire County.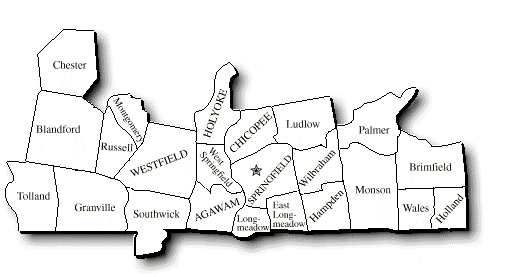 Agawam

|

Chicopee


|

Easthampton
|

East Longmeadow

|

Hampden

|

Holyoke


|

Longmeadow

|

Ludlow


Monson
|

Palmer

|

South Hadley

|

Southwick
|

Springfield


|

Westfield


|

West Springfield


|

Wilbraham

Town listings include links, contact Information, and private pay daily rates for nursing homes, and monthly rent for assisted living centers. (
Medicare
and
Medicaid
nursing home payments are lower than the listed private payment rates). Services in Hampshire, Franklin and Worcester Counties:
Northampton

|
Turners Falls

|
Worcester County Towns
Click for Calendars and Information on Meeting Times and Dates:
Alzheimer's Caregiver Support Groups -
for family members and friends of people with Alzheimer's disease to share feelings, concerns, information and support. Always call ahead if you want to attend a group meeting, to confirm that the meeting is being held, and that the support group meeting is appropriate for you. Times and dates of meetings are subject to change and cancellation.
Alzheimer's Association website.
Click for Calendars and Information on Meeting Times and Dates:
Al Anon Family Groups
- for anyone who feels his or her life is, or has been, affected by a problem drinker. Always call ahead if you want to attend a group meeting. Times and dates are sbuject to change. Call (413) 782-3406 for more information.
Bereavement and Grief Sharing Support Groups:
The following programs are offered at no charge:
Jewish Geriatric Services, Longmeadow, Support Group:
If you have experienced the loss of: An adult child, A partner/spouse, A sibling A parent, you are encouraged to come and share, to receive support in your grief and gain insight from others who also have experienced a loss. You are not alone and Spectrum Hospice Care is here to assist you through your grieving.
LOCATION: Spectrum Hospice Care, 770 Converse Street, Longmeadow, MA
Contact us at with any questions at 413 565-2500
Grief Share
meets Wednesdays at 7 pm at Bethany Assembly of God, 580 Main Street, Agawam. (413) 789-2930
Finding Our Way - Drop-in support group
for those coping with the recent loss of a loved one.
When:
2nd & 4th Tuesday each month. 10:00 AM -11:30 AM
Facilitator: Louisa Sapienza, Baystate VNA & Hospice
Where:
Baystate VNA, 50 Maple Street, Springfield
Baystate Visiting Nurse Association & Hospice Bereavement Support Groups
To register for these free programs, or for more info: Louisa Sapienza, Bereavement Coordinator at 413-794-6550 Grief Share meets Wednesdays from 6 - 7:00 pm at The Congregational Church, 8 Main Street, Windsor Locks, CT. (860) 623-4912
Health Care News Article on Hoarding Disorder

This directory is compiled from information submitted to us by the elder care agencies and facilities. The directory is not a recommendation or endorsement. It is a referral list for families and caregivers.