Medicaid Planning preserves assets and protects quality of life.
Think about the daily cost of a nursing home. Every day of lost eligibility can cost $300 or more. A month of lost eligibility costs more than $9,000. How you can protect assets and quality of life, and take the steps needed to obtain coverage?
2017

Medicaid eligibility requires an awareness of a 5 year time frame. If you made gift transfers within the past five years, and need Medicaid nursing home coverage now, those transfers must be resolved.
Gifts and asset transfers you make today, in 2015, will have to be reported if you apply for Medicaid within the next five years, up to 2020. If the transfer does not fit within the regulations, you will be disqualified for the value of the gift transfers.
But there are many exceptions to the Medicaid transfer rules, and many ways to work with the regulations to obtain eligibility sooner, rather than later.

2018

2019

2020

2021

2022

The 5 year Look Back period catches disqualifying transfers of money and property owned by the nursing home applicant or their spouse. In Look Back Period: Massachusetts Medicaid Part 1, a nursing home resident tried to fix a broken trust that owned the family home that was transferred to the trust many years earlier. Read the Case. Appeals Court judges said that the trust repair was a disqualifying transfer:

Permissible Transfers: Part 2 Massachusetts Medicaid explains some of the "permissible transfers" that are allowed under MassHealth regulations: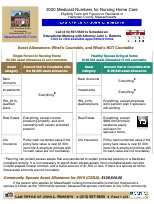 You can download and read

the 2018 Medicaid Nursing Home Care Coverage Figures which include definitions of the Community Spouse Asset Allowance, the Minimum Monthly Maintenance Needs Allowance (Minimum MMNA), and the principal residence equity allowance. These regulations help to protect the spouse living at home. State and federal laws come into play, along with thousands of Medicaid regulations:


regulations that determine whether you are financially eligible


Proposed revisions to financial eligibility regulations


regulations that say who can be an authorized representative who signs a MassHealth application


regulations on who can file an appeal if your application gets denied


regulations about real estate liens and estate recovery
In addition to the regulations, MaasHealth has Eligibility Operations Memos that talk about whether you must privately pay for nursing home care from your own funds. List of Proposed Revisions to Regulations.


Income limits, federal poverty guidelines and upper income limits for MassHealth programs.
The story of Pauline Chludzenski, her husband who needed care in a Massachusetts nursing home, and their out-of-state home:
Clik to read: the Pauline Chludzenski case.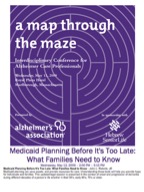 Some of the exceptions to the transfer regulations are discussed in the

map through the maze curriculum: Medicaid Planning Before It's Too Late, that I presented to the Alzheimer's Association in 2009. The regulations I talked about with that audience are still in effect, except the equity interest amount that is allowed for principal residence has increased every year (See the Medicaid Nursing Home Care Coverage Figures

PDF).
Medicaid eligibility depends on who you transfer to, and when you make the transfer. A transfer made within the five year period may or may not disqualify your application.


If advance planing is not possible, it's never too late to take steps to protect yourself. Crisis Medicaid Planning for a single person explains that planning is possible even if you are a single person, and a nursing home admission has already occurred.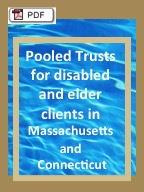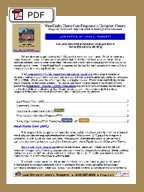 Pooled Trusts in Massachusetts and Connecticut is a comparison of the charitable trust funds that are available to people who are facing a nursing home admission. Money saved in a Pooled Trust account can be used for Quality of Life enhancements for a nursing home resident.

Checklist.
Medicaid can also pay for care at home. The transfer regulations are less restrictive.


Click to download MassHealth Home Care Programs in Hampden County - Programs that could help you avoid a Nursing Home Admission.
Whether you need Advance Planning, Current Planning, or Crisis Planning, I can provide you with the services appropriate to your need for Medicaid coverage. Call me if you want to preserve assets and protect quality of life.

 My mother is on Medicaid and will be receiving an inheritance of approximately 250,000. How can she spend this money and on what?
Can my parents' house remain unoccupied as long as both parents are alive and residing in a nursing home?
Can I sell my mother's car? She is in a nursing home on Medicaid.
How do you manage the spend down if your income is only your SS check and all goes to maintaining your home? My wife and I receive social security checks which 100% of them go to maintaining our home & basic living expenses (namely food).
Mom has been on Medicaid for 2 years. She has been named in a will of about $25,000.00. How should I report this to Medicaid?
Can the nursing home take Dad's insurance policy? My dad needs to go into nursing home...
Mom gave my brother over $100K to buy a house. How does that affect her Medicaid application? My Mom (87) is in poor health. She gave the money to my brother in 2010.