Medicare Payments for Nursing Home Care
Protecting Benefits and Coverage
If a patient has spent 3 days in the hospital, Medicare may pays for care in a Skilled Nursing Facility:


Days 1 – 20: $0 coinsurance for each benefit period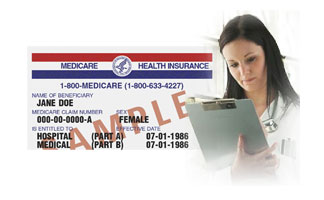 Days 21 - 100: $157.50 coinsurance per day


Days 101 and beyond: all costs
Do you know your rights to nursing home coverage under Medicare? Medicare Part A pays for inpatient hospital care, and then for care in a skilled nursing facility if the patient has been discharged to the facility from a hospital. But Medicare will only pay for the skilled nursing home care IF the elder has a "qualified" hospital stay of at least 3 days (not counting day of discharge) before being admitted to the skilled nursing facility. Admission to the nursing home must be within 30 days of the hospital discharge.
Medicare pays for skilled nursing services, but nursing homes may be reluctant to continue Medicare Coverage.
Even if full recovery or medical improvement is not possible, a patient may need skilled services to prevent further deterioration or preserve current capabilities. The nursing home patient who needs these skilled services should still be covered by Medicare. For example, a terminal cancer patient may need skilled services. the concept of skilled therapy services can involve not only services that are restorative in nature (or "rehabilitative" therapy in the OPT setting) but, if certain standards are met, maintenance therapy as well. Read more:

Manual Updates to Clarify Skilled Nursing Facility (SNF), Inpatient Rehabilitation Facility (IRF), Home Health (HH), and Outpatient (OPT) Coverage Pursuant to Jimmo vs. Sebelius
But nursing homes are having trouble understanding and complying with the Medicare rules that were clarified in the Jimmo case. Discussion: Jimmo implementation is troubled. Reuters reports that the new understanding of Medicare coverage for long term nursing home care is off to a rocky start. Medicare's offical publications admit that the Medicare statute and regulations have never supported the imposition of a rule of thumb "Improvement to determine whether skilled care is required to prevent or slow deterioration in a patient's condition. Medicare coverage depends not on the beneficiary's restoration potential, but on whether skilled care is required, along with the underlying reasonableness and necessity of the services themselves. Medicare has issued revisions to its manual to explain this basic more clearly. Read more:

Transmittal 176 December 16, 2013. Steps to take if you need to appeal a Medicare Coverage Denial.
"Observation" Status
Another potential problem for hospital patients who are discharged to a nursing home is Observation status in the hospital. Medicare is now directing hospitals to keep patients "under observation," to prevent eligibility for the 100 days of Skilled Nursing Facility benefits that would otherwise be available to those who enter a nursing home after a hospital stay of 3 or more days. A Medicare fact sheet warns patients to ask about their status when they are in the hospital: Are You a Hospital Inpatient or Outpatient? If You Have Medicare – Ask! "You're an inpatient starting the day you're formally admitted to the hospital with a doctor's order. The day before you're discharged is your last inpatient day." Self help packet for hospital patients.
CMA explains observation status as "the classification of hospital patients as "outpatients," even though, like inpatients, observation patients may stay for many days and nights in a hospital bed, receive medical and nursing care, diagnostic tests, treatments, supplies, medications, and food. The classification of a hospitalized patient as an outpatient can cause many problems for the patient. Most significantly, Medicare will not pay for a subsequent stay in a skilled nursing facility (nursing home). In other words, patients placed on Observation must pay out-of-pocket for their nursing home care, with bills often totaling many thousands of dollars."
You may be confronted by hospital or nursing home staff, who tell you that Medicare will not continue to pay for care. They may refer you to Medicare Regulations that say the patient's condition must be expected to improve in a reasonable and predictable period of time based on the physician's assessment. But there are many Medicare Regulations that protect your rights to continued coverage if you need skilled care. Medicare regulations say "the determination of whether skilled nursing care is reasonable and necessary must be based solely upon the beneficiary's unique condition and individual needs, without regard to whether the injury is acute, chronic, terminal, or expected to last a long time." Call us if you need to protect these important rights to health care services that Medicare does cover.
In 2013, a US District Court Judge in Connecticut dismissed a lawsuit filed by the Center for Medicare Advocacy (CMA) on behalf of seven people from Connecticut, Massachusetts, and Texas who were denied Medicare benefits because of hospital "observation status." The judge concluded that it is permissible for Medicare to consider someone an inpatient only if she has been formally admitted by a hospital. The reality, according to CMA, "is that hospitals and doctors have been strongly pressured by Medicare to classify more and more people in the hospital as outpatients. The American Hospital Association filed an amicus brief in the case explaining how doctors' admissions decisions are often second-guessed, and how hospitals have faced government enforcement actions and penalties for 'inappropriate' inpatient admissions." CMA encourages you to contact your Representative and Senators to ask that they cosponsor the Improving Access to Medicare Coverage Act of 2013 (H.R. 1179), which would make all time in the hospital count toward the three-day stay requirement.
Next Page: Medication Management: Preventing Polypharmacy, Maximizing Medicare Part D, and Finding Alternative Payment Sources